Professional Exterior Wood Siding Repair Services in Mississauga
Rotting in wood is bound to happen. Your once beautiful wood siding will one day run its course and will need to be repaired. Every homeowner has to go through this repair process and there are experienced wood siding contractors in Mississauga that can help you. But how does one know if the exterior wood siding needs a repair or not? In this blog, we have listed signs of wood siding damage, the dangers of DIY repairs, and how professionals offering services for Wood Siding Repair in Mississauga can be of great help.
Signs You Should Go for Wood Siding Repair in Mississauga
Wood is a natural substance and is prone to rot, mold, warping, and mildew. Some of the common reasons for wood damage are listed below.
– Woodpeckers poking holes in the wood siding to eat insects
– Increasing growth of pests like termites, rodents, and other animals
– Damaged or missing caulking that allows moisture to penetrate
– Occurrence of regular wear and tear due to external weather factors
– Damage due to flying debris, tree branches, and other objects
– Popped out nails due to age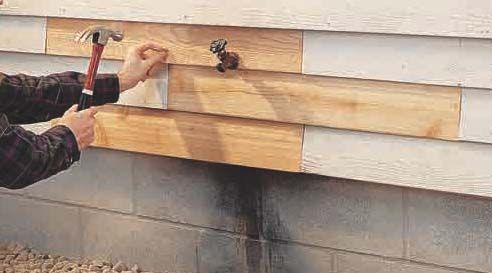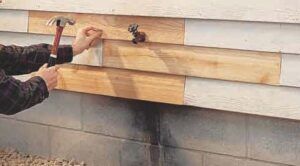 As wood starts to rot with time, it allows moisture to enter inside the core of the board and the underlying felt paper. One can easily observe the signs of water ingress on the interior as well as the exterior side of the home. Deformed, loose, and cracked clapboards are the first signs of rot that can be noticed from outside and that's when one needs to restore wood siding.
If this is something you have also observed at your home, it is time to get in touch with wood siding contractors in Mississauga and get the repairs done at the earliest. Further delays can allow mold to grow, increase the damage & repair costs, and can potentially affect the health of your family.
The Downsides of DIY Wood Siding Repair
Many homeowners believe that replacement or wood siding repair in Mississauga is not a difficult task. The wood siding repair steps include getting rid of rotted siding by cutting, removing the old nails, cutting the new part of the siding as per the length needed, fastening the siding, and caulking to ensure no water ingress.
However, if there are any lapses in size, fitting, or caulking, it could potentially have a detrimental impact on the existing clapboards around the rotten boards. It can lead to an increase in damage and repair costs with time.
If the owners decide to conduct wood siding repair by themselves, they need to dedicate a lot of time to it, and it can be frustrating for home and commercial space owners. Getting professional help to restore wood siding can be a great idea. With the help of experienced professionals and wood siding contractors in Mississauga, you can get a long-term solution quickly and effectively. Going for DIY repairs of exterior wood siding can be a short-term fix, leading to inferior workmanship, increased cost over time, and frequent repairs.
Give Your Home An Instant Makeover with Wood Siding in Mississauga
Replacing or repairing wood siding depends on the amount of rot and damage. If there are holes in the clapboards caused by the woodpeckers, they can be instantly filled by using wood putty. If there are only one or two clapboards that are damaged, they can be generally replaced by owners or commercial maintenance professionals. With the help of old and damaged clapboard, they can get the measurement and replace them with new wooden planks.
At times, owners can misjudge the damage as the amount of rot observed to the naked eye can be misleading. If you find a lot of damage on the exterior wood siding in Mississauga, then it's time to think of more effective solutions like fibre cement lap sidings, which are highly durable and long-lasting than wooden ones.
If the concern is pests, you are looking at potentially serious infestations that would need assistance from professionals and pest control experts. If the pest damage is not controlled at the early stage, the rot can grow at a fast speed with each passing day. That's why you need to get in touch with a wood siding contractor and get the repairs done. Owners might also need to consult termite control experts to get a comprehensive inspection done to know the damage done.
Many owners also make the mistake of just checking the clapboards and ignoring the underlying layers that may have turned soft due to rot. Owners can use a screwdriver to poke at the underlying layers to know the impact of the rot. However, for this kind of inspection, a person needs skills, experience, and technical know-how. If you are not sure about the damage, you can get in touch with professionals at Best-Stucco for wood siding repair in Mississauga.
We are one of the leading wood siding contractors in Mississauga, who can perform a comprehensive inspection without causing further damage to existing clapboards. Even if there are just a few boards, we can help you select the right materials, wood species, and colour of the siding with the help of our extensive network of wood siding suppliers.
Let Best-Stucco Help You to Restore Wood Siding in Mississauga
Best-Stucco can assist home and commercial space owners with their wood siding repairs in Mississauga. If you have noticed any rot or other damage, contact our seasoned professionals immediately to get an inspection and repairs done to further prevent the damage. For more information, call on 647-505-4281 or write us at peter@best-stucco.com.
Wood Siding Repair Mississauga